SSL Certificates Without the Busy Work
Save time and say goodbye to expired certificates when you use SSLMate's easy SSL certificate automation.
Save Time
You can manage hundreds or even thousands of certificates with ease using SSLMate. SSLMate automates the repetitive process of generating a private key, submitting a CSR, validating the request, and assembling the correct certificate bundle.
Prevent Outages
Never forget a certificate renewal again. SSLMate automatically renews your certificates and installs them on your servers so do don't have to worry about downtime.
Support When You Need It
Your support questions are answered personally by SSLMate founder and certificate expert Andrew Ayer. Get your problems fixed without talking to a low-level helpdesk worker or posting on a community forum.
Get Certificates From The Command Line
The easy-to-use sslmate command line tool automates private key generation, CSR submission, and installation of the correct certificate bundle on your server. You can also automate the installation of renewals. No more complicated openssl commands!
$ sslmate buy www.example.com
Track Your Certificates From One Place
Track your certificates and their expiration dates in one place using the SSLMate web console. You'll receive email notifications with helpful diagnostics if anything goes wrong renewing a certificate.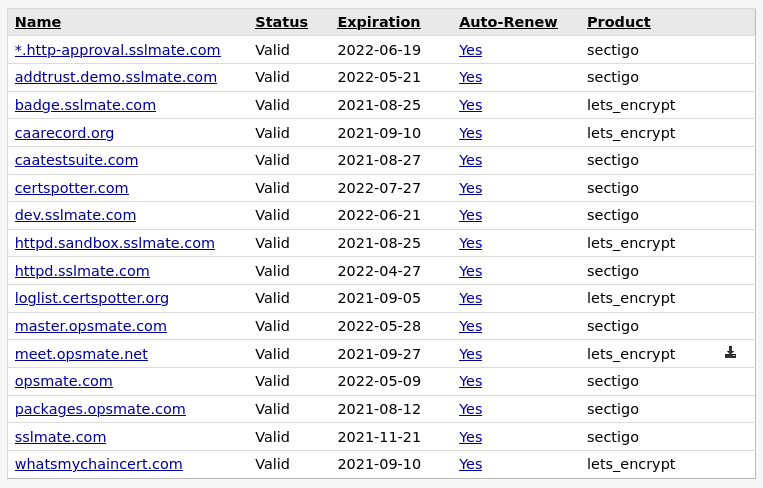 Automate with a Simple API
You can use SSLMate's simple JSON API to integrate certificate issuance into your application or devops workflow. There is no rate limit on how many certificates you can issue.
$ curl https://sslmate.com/api/v2/certs/example.com \
> -u 123_sampleapikey: \
> --data-urlencode csr=$'-----BEGIN CERTIFICATE REQUEST-----...'
Loved by Customers
SSLMate is wonderful.
Thai Duong
, security researcher behind CRIME, BEAST, and POODLE.
Buying SSL certificates on the command line using SSLMate was the easiest thing ever. I had a working SSL certificate in 1 minute.
Sebastian Seilund
, CTO, Billy's Billing
I re-discovered SSLMate yesterday; it is the easiest way by far to purchase SSL certificates.
Dave Peck
, Co-founder, Cloak
Trusted by Experts
SSLMate founder Andrew Ayer has given invited talks at Apple and Google about Certificate Transparency monitoring. He is a trusted voice in the certificate community, and his security research has led to changes in the standards and policies for certificate issuance.
You can rest easy when you're an SSLMate customer knowing that your business-critical certificate infrastructure is in skilled hands. If you ever need help, Andrew will answer your email personally.
Trusted at
Per-Certificate Pricing
Single Hostname
$15.95 / year
Valid for one year
Secures one hostname
Also secure base domain or www sub-domain: FREE
Secure extra hostnames: $24.95/year each
Secure extra wildcards: $249.95/year each
Reissues: FREE
Revocations: FREE
Issued by Sectigo
No rate limits
Wildcard
$149.95 / year
Valid for one year
Secures direct sub-domains of one domain
Also secure base domain: FREE
Secure extra hostnames: $24.95/year each
Secure extra wildcards: $249.95/year each
Reissues: FREE
Revocations: FREE
Issued by Sectigo
No rate limits